ISO STANDARD AIR CYLINDERS
C1 SERIES ISO 6431 VDMA 24562

Robust General Purpose Air Cylinder
AZ Pneumatics air cylinders, distributed in Australia by Universal Fluid Power. Noticeably low friction (obvious when you extend the piston rod by hand) due to high quality polyurethane and NBR seals. (Viton seals supplied on request). Pneumatic adjustable cushions. All pistons magnetic as standard. The barrel is provided with grooves to allow direct mounting of optional reed switches without the need to remove end caps. Complete range of cylinder mountings and accessories available. All parts individually replaceable.

Fast delivery nationwide to all major cities and regional areas in Australia including Brisbane, Sydney, Melbourne, Adelaide, Hobart, Darwin, Perth & Canberra.
Scroll down for dimensions and spare parts view.
C1 SERIES CYLINDERS

TECHNICAL DATA

CYLINDER MATERIALS

Barrel
Piston Rod
Covers
Piston
Seals
Bush
Magnet
Anodised aluminium
C45 hard chromium plated steel
Aluminium
Aluminium
Polyurethane + NBR
Acetal
Magnetic Iron Compund

CYLINDER OPERATION

Medium

Working Pressure
Temperature
Compressed air, with or without lubrication.
Max 10 bar
NBR: max + 60°C
Viton: max + 110°C

STANDARD CYLINDER BORE SIZES (mm)

32, 40, 50, 63, 80, 100, 125, 160, 200

STANDARD CYLINDER STROKES (mm)

25, 50, 75, 80, 100, 125, 150, 160, 200, 250, 300, 320, 350, 400, 450, 500,550, 600, 650, 700, 750, 800, 850, 900, 950, 1000.

SPECIAL CYLINDER STROKES

Manufactured to order up to 3000mm.

STANDARD CYLINDER MODELS

100
101
200
201
260
270
D.A. Stainless Steel Rod
D.A. Stainless Steel Through Rod
D.A. Hard Chrome Plated Rod
D.A. Hard Chrome Plated Through Rod
S.A. Hard Chrome Plated Retracted Rod
S.A. Hard Chrome Plated Extended Rod

CYLINDER OPTIONS

Viton Seals - add a 'V'
Extended Piston Rod - see CS Series
Magnetic - (supplied standard) add an 'M'
Reed Switch - Part No. RS3-A

ORDER INFORMATION



Dimensions for C1200 Bore 32-125 ISO 6431 Standard Pneumatic Cylinder







| | | | | | | | | | | | | | | | | | | | |
| --- | --- | --- | --- | --- | --- | --- | --- | --- | --- | --- | --- | --- | --- | --- | --- | --- | --- | --- | --- |
| DWG | ø | A | B | C | D | E | F | G | H | J | K | L | M | N | P | Q | R | S | T |
| | 32 | 16 | 22 | M10x1.25 | 10 | M6 | 120 | G1/8" | 25.5 | 5 | 47 | 32.5 | 12 | 30 | 10A/F | 30 | 94 | 63.6 | 17A/F |
| | 40 | 20 | 24 | M12x1.25 | 10 | M6 | 135 | G1/4" | 28 | 5 | 53 | 38 | 16 | 35 | 13A/F | 35 | 105 | 75 | 19A/F |
| | 50 | 25 | 32 | M16x1.5 | 12 | M8 | 143 | G1/4" | 30 | 5 | 64 | 46.5 | 20 | 40 | 17A/F | 40 | 106 | 69.4 | 24A/F |
| | 63 | 25 | 32 | M16x1.5 | 12 | M8 | 158 | G3/8" | 31 | 5 | 74 | 56.5 | 20 | 45 | 17A/F | 45 | 121 | 85.2 | 24A/F |
| | 80 | 32.5 | 40 | M20x1.5 | 13.5 | M10 | 174 | G3/8" | 34 | 5 | 94 | 72 | 25 | 45 | 22A/F | 45 | 128 | 90 | 30A/F |
| | 100 | 35 | 40 | M20x1.5 | 16 | M10 | 189 | G1/2" | 35 | 5 | 112 | 89 | 25 | 55 | 22A/F | 55 | 138 | 104 | 30A/F |
| | 125 | 40 | 54 | M27x2 | 25 | M12 | 225 | G1/2" | 41 | 5 | 136 | 110 | 32 | 60 | 27A/F | 60 | 160 | 112 | 41A/F |
Note: Click CAD icons to download drawings
Dimensions for C1200 Bore 160-200 ISO 6431 Standard Pneumatic Cylinder

| | | | | | | | | | | | | | | | | | | | |
| --- | --- | --- | --- | --- | --- | --- | --- | --- | --- | --- | --- | --- | --- | --- | --- | --- | --- | --- | --- |
| DWG | ø | A | B | C | D | E | F | G | H | J | K | L | M | N | P | Q | R | S | T |
| | 160 | 35 | 72 | M36X2 | 45 | M16 | 260 | G3/4" | 60 | 5 | 180 | 140 | 40 | 65 | 36A/F | 65 | 180 | 103 | 55A/F |
| | 200 | 35 | 72 | M36X2 | 60 | M16 | 275 | G3/4" | 60 | 5 | 220 | 175 | 40 | 75 | 36A/F | 75 | 180 | 106 | 55A/F |
Note: CAD drawings not yet available for bore 160-200 - stay tuned
Spart Parts for Bore 32-125 ISO 6431 Standard Pneumatic Cylinder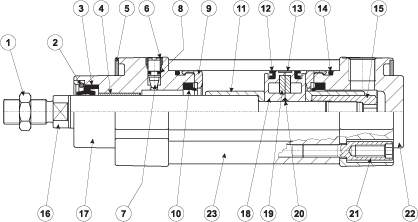 1. Locknut - Steel
2. Retaining Ring
3. Rod Seal - NBR or Viton
4. Rod Bearing - Non Lube
5. Dust Seal - Nylon
6. Retainer - Cushion Screw
7. Cushion Screw
8. "O" Ring - NBR or Viton
9. Shock Absorber - Hytrel
10. Cushion Seal - NBR or Viton
11. Cushion Spear - Aluminium
12. Piston Seal - NBR or Viton

13. Piston Wear Strip - PTFE
14. Barrel Seal - NBR or Viton
15. Piston Retaining Nut - Steel
16. Piston Rod - Steel 1045 or SS AISI 304
17. Rod End Cover - Aluminium
18. Piston - Aluminium
19. Magnet
20. "O" Ring - NBR or Viton
21. Cover Bolt - Steel
22. Head End Cover - Aluminium
23. Barrel - Anodised Aluminium
Spare Parts for Bore 160-200 ISO 6431 Standard Pneumatic Cylinder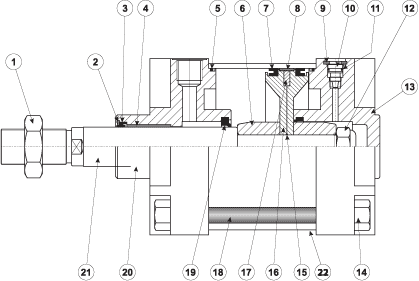 1. Locknut - Steel
2. Retaining Ring
3. Rod Seal NBR or Viton
4. Rod Bearing - Non Lube
5. Barrel Seal - NBR or Viton
6. Cushion Spear - Aluminium
7. Piston Seal - NBR or Viton
8. Piston Wear Strip - PTFE
9. Retainer - Cushion Screw
10. Cushion Screw
11. "O" Ring - NBR or Viton
12. Piston Retaining Nut - Steel

13. Head End Cover - Aluminium
14. Tie Rod Nut - Steel
15. "O" Ring - NBR or Viton
16. Piston - Aluminium
17. Magnet
18. Tie Rod - AISI 304
19. Cushion Seal - NBR or Viton
20. Rod End Cover - Aluminium
21. Piston Rod - Steel 1045 or SS AISI 304
22. Barrel - Anodised Aluminium
Dimensions for C1201 Bore 32-125 ISO 6431 Pneumatic Cylinder with Through Rod
DWG

ø

A

B

C

D

E

F

G

H

K

L

M

P

Q

R

S

T

U

32
16
22
M10x1.25
10
M6
146
G1/8"
25.5
47
32.5
12
10A/F
30
94
63.6
17A/F
26
40
20
24
M12x1.25
10
M6
165
G1/4"
28
53
38
16
13A/F
35
105
75
19A/F
30
50
25
32
M16x1.5
12
M8
180
G1/4"
30
64
46.5
20
17A/F
40
106
69.4
24A/F
37
63
25
32
M16x1.5
12
M8
195
G3/8"
31
74
56.5
20
17A/F
45
121
85.2
24A/F
37
80
32.5
40
M20x1.5
13.5
M10
220
G3/8"
34
94
72
25
22A/F
45
128
90
30A/F
46
100
35
40
M20x1.5
16
M10
240
G1/2"
35
112
89
25
22A/F
55
138
104
30A/F
51
125
40
54
M27x2
25
M12
290
G1/2"
41
136
110
32
27A/F
60
160
112
41A/F
65
Adobe Acrobat PDF for C1201 pneumatic cylinder dimensions as shown above (37kb)
Note: Click CAD icons to download drawings